SF House Cleaning Services offers wide variety of floor cleaning services available today, each with its own unique features and benefits. Floor buffers are the most basic type of floor cleaning tool and can be used to clean both hard floors and carpets. Automatic floor scrubbers and sweepers are more advanced tools that can deep clean almost any type of hard floor or carpeted surface in much less time than it would take using a traditional cleaning method.
Carpet extractors are also gaining in popularity as they can quickly and easily remove embedded dirt, dust, and debris from carpets.Whether you need a basic floor cleaning solution or something more advanced, there is sure to be a floor cleaning service that meets your needs. Whether you're looking for a quick fix or something that will take more time, the options available today make it easy to get your floors clean and free of stains in no time at all.
Residential Floor Cleaning Services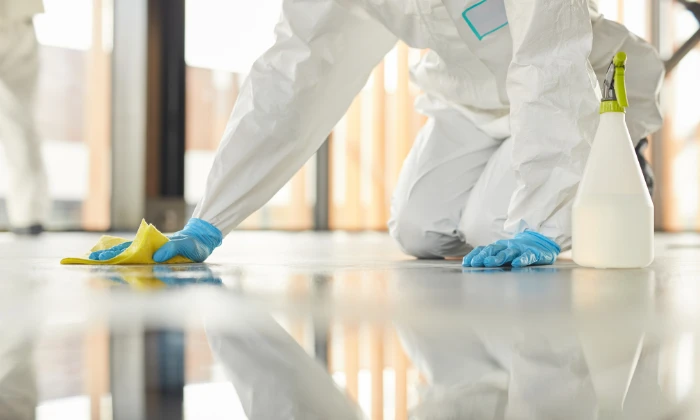 There are numerous benefits to residential floor cleaning. Not only is it a great way to keep your home clean and organized, but it also has the potential to reduce allergies and asthma symptoms in your household. When you clean your floors regularly, you also reduce the amount of dust and dirt that accumulates over time. This can not only make your home more comfortable to live in, but it can also improve the air quality in the area.
When you're scheduling Residential Floor Cleaning services, be sure to consider the specific needs of your home. Some homes may require special attention to areas like pet hair or soils that are difficult to remove with traditional cleaners. Additionally, some homes may benefit from deeper cleaning than others. Before agreeing to have your floor cleaned, be sure to ask your provider about their specific approach and procedures
Wood Floor Cleaning Services
If you are looking for a reliable and affordable way to keep your wood floors clean and looking their best, then you need to consider hiring professional wood floor cleaning services. There are a number of reasons why this is the best option for you.
First of all, professional cleaners are experts at getting rid of dirt, dust, and stains quickly and efficiently. They will use the latest technologies and equipment to get the job done right, so your floors will look like new again in no time. Plus, they will be able to clean any type of wood flooring, no matter how delicate or hard it is.
Secondly, professional cleaners offer a wide range of services that can meet your specific needs. You can choose between one-time or regular visits, depending on what you need – from deep cleaning to stain removal. In addition, they can also do things like furniture cleaning and rug cleaning. So if you have a lot of furniture or rugs in your house, booking a service with multiple visits is definitely the way to go.
Finally, hiring a professional cleaner is an affordable option compared to doing it yourself. Most services start off at around $60 per visit (which includes both labor and materials), which is much less than what you would spend on store-bought solutions or trying to clean your floors yourself without any help. So if you're ready to take your wood floors from drab to fabulous in no time – call in the pros!
Floor Cleaning Services In San Francisco
If you're looking for a trustworthy floor cleaning company in San Francisco, look no further than SF House Cleaning Company. Our team of experienced professionals will take care of every detail of your cleaning project, from prepping the area to ensuring that the floors are perfectly clean and shining when we're done. We'll also provide you with a detailed report of our work so you can be sure that your home is in top condition when we're done. Contact us today to schedule a free consultation and see how SF House Cleaning Company can help you keep your home sparkling clean!
Commercial Floor Cleaning Services
There's no doubt that a clean and well-maintained commercial floor can help improve the overall impression of your business. That's why it's important to find reputable floor cleaning services that can get the job done quickly and efficiently.
Some of the most common types of floors that need cleaning include concrete, linoleum, hardwood, and tile. Many floor care companies offer a wide range of services including deep cleaning, general cleaning, and even restoration work. It's important to choose a company that has the experience necessary to handle your specific type of flooring.
If you're looking for an affordable and reliable solution, consider using one of the many online floor cleaning services. They'll send a team of professionals to your location to get the job done right. Plus, most companies offer flexible payment options so you can budget for the service without having to worry about overspending.
Tile Floor Cleaning Services
The floors in your kitchen or bathroom are essential to keeping the space looking clean and organized. Although you don't have to tackle this chore every time you wipe down the countertops, it's important to keep an eye on your tile floors for signs of dirt or grime. A hazy film or dirty grout are both indicators that your floors need more than a cursory sweeping. If you're not sure how to clean your floor, consider hiring professional floor cleaning services. They will know exactly how to get the job done and won't leave any mess behind
Best Floor Cleaning Solution
If you're like most homeowners, you probably don't have a lot of extra money to spend on cleaning products. That's why homemade floor cleaners are such a great choice. They're affordable, easy to make, and effective at cleaning floors.
Additionally, homemade cleaners are preferable if you want to keep them eco-friendly. Most store-bought cleaners contain harsh chemicals that can damage your floors and air quality. Instead, try making your own cleaner using ingredients that you probably already have in your house. Here are some recipe ideas:
To make a basic floor cleaner, mix 1 cup of white vinegar with 2 cups of warm water in a spray bottle. To make an all-purpose cleaner, mix 1 cup of white vinegar with 3 cups of warm water in a spray bottle. For stubborn stains or areas that won't budge with the basic cleaner, add ½ cup of cornstarch to the mixture and shake before using.
Homemade floor cleaners are an excellent option for homeowners on a budget. They're also a good option for families dealing with various health issues. Additionally, using a homemade cleaner is preferable if you want to keep it eco-friendly. If you're interested in trying out this type of cleaning method, be sure to check out our selection of floor cleaning services available here at SF HOUSE CLEANING!
Garage Floor Cleaning Services
There are a few steps you can take to clean your garage on a larger scale. Maybe it will take a whole day or two, but once it's done, cleaning next time will be much easier. Here are the steps:
Start by sweeping the floor and collecting all of the debris. Place this in a garbage bag or container for later.
Wipe down any surfaces that need it with a damp cloth or sponge. Make sure to get into all the nooks and crannies.
If there is any liquid left on any surface, use a scrub brush to get rid of it. Be careful not to damage any surfaces while doing so.
Pour some water into a bucket and add an enzyme cleaner if desired. Swish the surface around with the brush until the cleaner is fully dissolved, then rinse off with water.
Repeat Steps 2-4 as necessary until all traces of dirt, dust, and liquids are gone!
Conclusion
Are you looking for reliable and affordable floor cleaning services? Look no further than our team of experts! We offer a wide range of services that will keep your floors clean and dust-free. Our team is highly skilled and experienced, so you can be confident that our work will be of the highest quality. We also offer a variety of specials that you might want to consider when selecting our services. Contact us today to learn more about what we can do for you!